Zucchini Joe (Ground Beef or Turkey With Zucchini and Egg)
loof751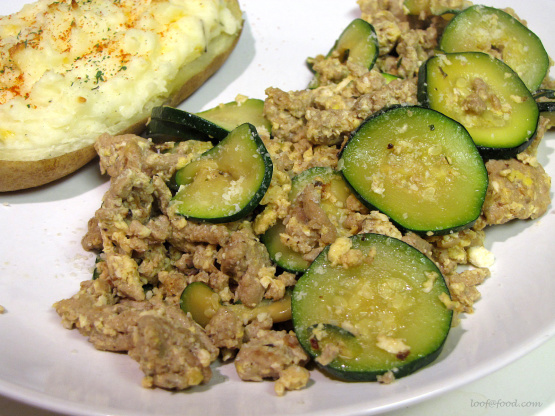 This is a super easy one-skillet dish that tastes amazing and is a great way to get some veggies into kids. It can be made with ground beef or ground turkey (I generally prefer turkey because it is leaner). You can increase the number of eggs to six if you want but I like it this way. You can also definitely eat this as a brunch item but my family loves it for dinner.

This simple dish was really tasty! Easy to make with staple ingredients and very kid-friendly. I used ground turkey; I like onions more on the well-cooked side so sauteed them a bit on their own before adding the meat. Thanks for sharing your recipe! Made for Spring Pick-A-Chef 2013
Crumble meat into large skillet, add onion and brown the two together. You shouldn't need any oil because the onion will cook in the fat of the meat but if you think it is really dry, add a very small amount of olive oil.
Add zucchini and cook briefly.
Add garlic, salt and seasonings to taste.
Add eggs and stir gently while cooking over low heat until done.
Serve with Parmesan cheese.