A great way to get your veggies in and a delicious side dish for any dinner.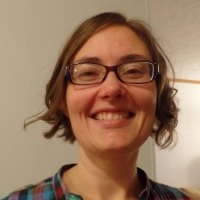 These were quite tasty little things. They were quick to make, and besides for avoiding grating my fingers, pretty easy too. I only have a hand grater and it makes a fine shred. I used a half teaspoon of dried basil. They turned out well, and although I had fry in four batches to get all the batter done, I never needed to add more oil to the pan which is a plus with me. It made a great side dish, thanks! Made for PAC Fall 2012.
Grate zucchini into a bowl. Add eggs and mix thoroughly.
Start heating oil in a large skillet.
Add onion, black pepper, asiago cheese and basil to the zucchini. If the batter looks too liquidly, add a bit more flour just to thicken slightly.
When the oil is hot but not smoking, put a spoonful of batter into the pan or griddle, immediately mashing it down to spread the batter and form thin pancakes that can crisp easily.
When the pancakes are golden brown or deeper brown on the underside, flip them over and cook on the second When golden brown on the second side, remove pancakes. Drain on paper towels.
If desired, top with more grated asiago cheese.