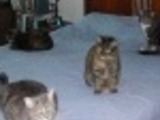 This is a recipe my BF found on-line and features his favorite combination of vegetables. It's a really delicious Mexican recipe. Instead of a leaf of epazote we used a few sprinklings of dried, and we used canned Mexican peppers instead of the poblano. Also, add more cheese if you are inclined to do so.
Directions
Roast the peppers either over a gas burner or under the broiler until blistered all over. Place in a paper bag for 10 minutes. Remove stems and seeds and chop.
Saute the onions until soft but not brown. Add garlic and saute for an additional 2 minutes.
Add the tomato and heat for several minutes until the mixture has thickened. Add zucchini and 1 tablespoon water, stir and cover. Cook until squash is tender, about 7 minutes.
Add the chopped chilies and corn and cook over medium heat for 1-2 minutes. Add the salt and epazote or cilantro. Heat until most of the liquid has evaporated.
Stir in cheese, cover and remove from heat. Wait for 3 minutes, then serve.
Reviews
Most Helpful
Yeap, one of our favorite combos, too! This was fantastic. I did leave out the cilantro since I hate the stuff & didn't find any epazote. A lovely mix of veggies! Made for Pool Party Tag 5/10. Thank you!