vrvrvr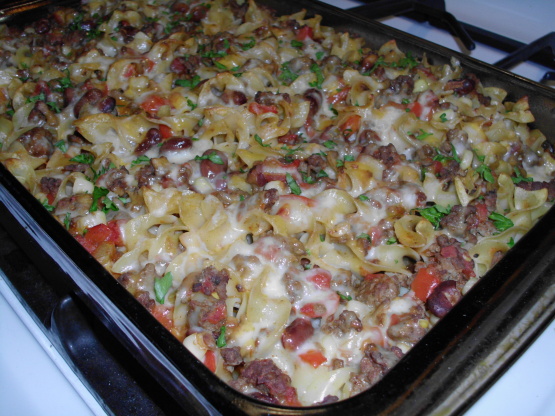 This is an easy one-dish meal that is a little different than just making chili for dinner. I recommend sauteing the onions and celery in a little olive oil before adding the meat to the pan. I've posted the original recipe as I first found it. Enjoy!

Top Review by vrvrvr
What a great casserole! I loved the can of chili in this. I used less ground beef, and in place of celery I chopped up half of a red bell pepper. I used a mix of purple and green onion. One cup of frozen corn instead of canned. And, finally added 1/2 t. of crushed red pepper flakes for a little intrigue. Heavenly! Thanks jovigirl.
Preheat oven to 350 degrees.
In a large skillet over medium high heat, saute the beef and onion for 5 to 10 minutes, or until meat is browned and onion is tender; drain fat.
Add the celery, chili, tomatoes, taco sauce and corn.
Heat thoroughly, reduce heat to low and allow to simmer.
Meanwhile, prepare the noodles according to package directions.
When cooked, place them in a 9x13 inch baking dish.
Pour the meat mixture over the noodles, stirring well.
Top with the cheese.
Bake at 350 degrees F for 25 minutes, or until cheese is completely melted and bubbly.