gailanng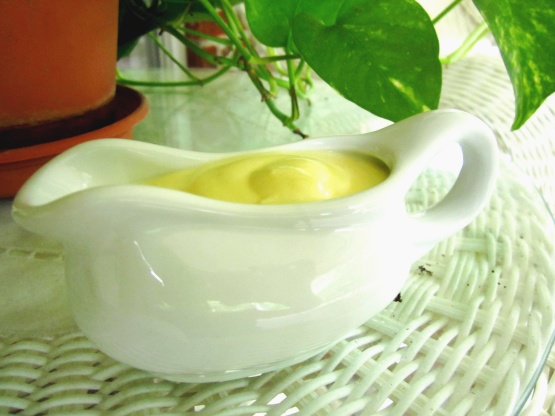 Who would have thought? A GUILT FREE Hollandaise Sauce that does not compromise on flavour!!! This is our go-to recipe and we find it better than the sauces filled with butter. Sauce can be made in advance and refrigerated for up to 1 week. From 'Smart Cooking' byAnne Lindsay.
Holy cow - it actually worked. I like my Hollandaise on the tart side and the yogurt worked well in that regard. You can halve the lemon and skip the mustard and it's much milder that way. It tastes more like the packets, but it was still really good. I'll be keeping this after I finish losing weight. No more butter for me.
Use double boiler or like me - place a strainer/sieve over a sauce pan of water and place a bowl in the sieve.
Beat yogurt, lemon juice, egg yolks well
Heat over simmering water, stirring frequently, until sauce has thickened, approx 15 min (sauce will become thinner after about 10 min and then thicken again).
Remove from heat and stir in salt, mustard, pepper and dill/parsley (if using).