Yoghurt Filled Capsicums / Bell Peppers
Elmotoo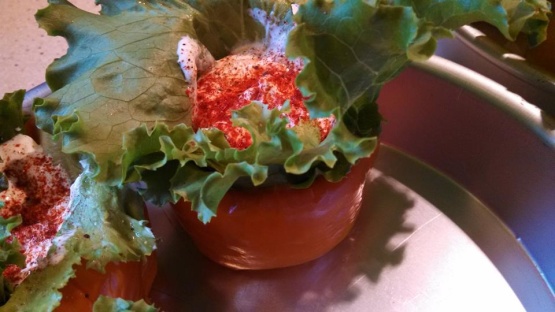 Nice little salad style side dish I came up with, quantities will largely depend on the size of the capsicums / bell peppers used so play it by ear and just take quantities listed as a rough guide.It needs a little refrigeration time not included in the preparation time.

This salad is so refreshing. My red peppers were large so after stuffing them they had an amazing verticality. Goes great with barbecue. Thanks, Peter! Made for Aussie-Kiwi Recipe Swap #74.
Cut around tops of capsicums to remove the stem and scrape out the white parts with a spoon, discard both.
Rub olive olive oil lightly over them and also lightly over the base of a baking tray.
Place cut side down into a cold oven set for 180C / 350F and cook around 20-30 minutes towards the top of the oven until they are just starting to blister, but the shape is still intact.
Refrigerate for at least 20 minutes.
Place lettuce leaves around the inside of each piece of capsicum and then fill with equal portions of greek yoghurt.
Top with paprika and season with salt and pepper to taste.
They may be served straight away or returned to the fridge a few hours if made in advance.