Ww Peanut Butter Cookies With Chocolate Centers Points+ 2
Course: desserts PointsPlus™ Value: 2 Servings: 30 Preparation Time: 12 min Cooking Time: 11 min Level of Difficulty: Easy Who doesn't love the lip-smacking duo of peanut butter and chocolate? These cookies will fly off the serving plate when you bring them out for a crowd.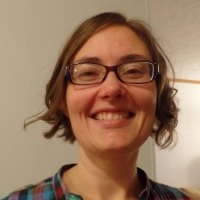 These are pretty tasty. DH says they remind him of PB Captain Crunch, because they are a crunchy cookie. With only one morsel of chocolate each, it is really more of a tease of chocolate than anything else. I made a few changes. I used smooth PB and 1.5 oz of milk chocolate morsels. I mistakenly grabbed the 1/2 teaspoon to make the cookies instead of the teaspoon, so they are smaller and I got 58 cookies. I recalculated the points, and even though I used 1.5 oz milk chocolate instead of 1 oz semi-sweet, since they are half size they are only 1 PP each. I made these for PAC Spring 2013.
Preheat oven to 375ºF. Coat 2 cookie sheets with cooking spray or cover with parchment paper.
Place sugar, butter and peanut butter in a large bowl; beat with an electric mixer until light and fluffy. Add eggs and vanilla; blend well with mixer.
Add salt, baking soda and flour to sugar mixture; beat until completely incorporated.
Drop batter by heaping teaspoons onto prepared cookie sheets and flatten with the back of a wooden spoon. Make sure to leave about 2 inches between each cookie. (Bake in several batches to prevent over-crowding if necessary.) Place a chocolate chip in center of each cookie.
Bake cookies until edges brown, about 10 to 11 minutes. Remove from oven and let cool on cookie sheet for 1 or 2 minutes; remove cookies to a wire rack and cool completely. Yields 1 cookie per serving.