ImPat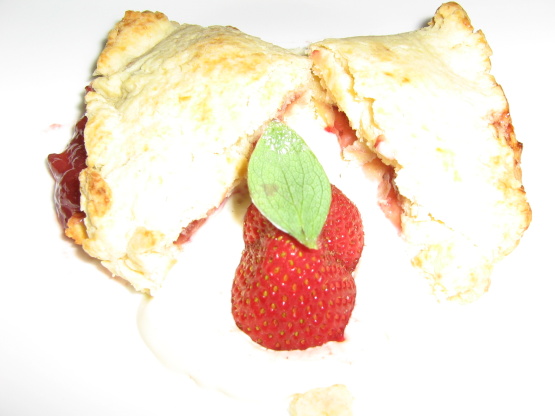 A Weight Watchers version of a favourite Australian recipe. Use your favourite jam (jelly). This a quantity for one serving. Serve with hot pouring custard. Australian measurements used. 5 Points

Top Review by ImPat
I tripled the recipe and needed to use an extra teaspoon of milk to bring the dough together, lightly kneading in the bowl before deviding into 3. I did find that after making the first I needed to roll it out a little bigger than stated about another 1 1/2cm and put 2 heaped teaspoons of jam (diabetic strawberry) plus 2 thin slices of fresh strawberry down one end and then fold the 2 narrow ends together press and fold around as with the first I just had jam oozing out everywhere but found that decreasing the amount of jam and folding instead of rolling worked well. Thank you Mischka for a dessert I will make for the DM and DS who thoroughly enjoyed, made for Edition 6 - Make My Recipe - a game of tag.
Preheat oven to 180 deg Celsius. Coat a flat oven tray with cooking spray.
Combine flour and sugar in a small bowl. Rub in butter then pour in milk and mix to form a soft dough.
On a sheet of baking paper gently & quickly knead dough. Roll out to a 13cm x 6cm rectangle. Evenly spread the jam on the dough. Roll up from short side, then fold the ends under.
Place dough onto prepared tray and bake for 10-12 minutes or until golden & risen. Cool slightly before serving.