Ww Baked Yams With Pineapple - 3 Points
2Bleu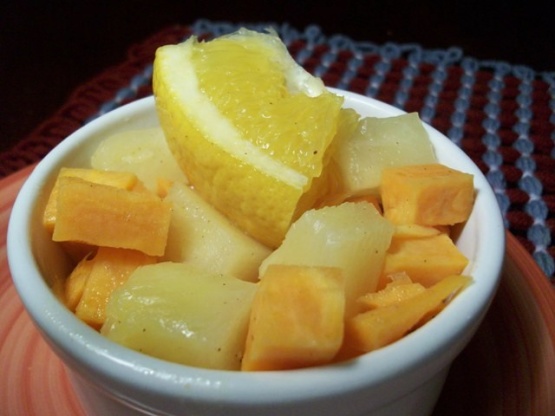 This has been marked in my WW cookbook called "Simply the Best" as great. Darla from Los Angeles sent this in. Very yummy indeed. Hope you enjoy.

this was very good but there was too much liquid in the bottom of the dish when it was done, which kind of made a mess on the plates etc. I think next time I might try adding cornstarch to help with that or maybe I'll add crushed pineapple and mash it at the end - that might be really good! I will be trying this recipe again, it was very tasty!
Preheat the oven to 375 degrees.
In a 2-quart casserole dish, combine the yams, orange, pineapple and its juice, cinnamon and nutmeg; dot with the margarine.
Cover and bake until the yams are tender, about 45 minutes.