Ww 3 Points - Asian Sesame Noodles
teresas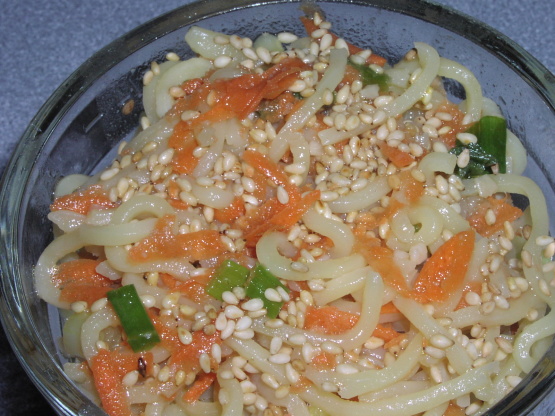 From Weight Watcher - Simply Delicious Unlike the fatty noodles you find in restaurants, our high-fiber noodles are served in a light, nutty sauce. This dish is delicious hot, at room temperature, or chilled. Try it with a crisp green salad for a more substantial meal.

The sauce remained very watery after I tried to cook it down. I think adding some cornstarch might have helped thicken it up a bit and maybe it would have clung to the noodles better. I found the overall flavor rather bland, also.
Combine the chicken broth, soy sauce, peanut butter and garlic in a small saucepan; bring to a boil.
Reduce heat and simmer 15 minutes.
Remove the sauce from the heat and stir in the scallion, lemon juice and sesame oil.
Meanwhile, cook the spaghetti according to package directions.
Drain; rinse under warm running water and drain again.
Combine the spaghetti, the sauce, carrot and sesame seeds in a large bowl.
Toss gently to mix.
Serve warm or cover and refrigerate for up to 2 days.
Bring to room temperature 30 minutes before serving.
3 Points for 2/3 cup.
Sesame Seeds:.
To toast sesame seeds, place them in a small dry skillet over medium-low heat. Cook, stirring constantly, until lightly browned and fragrant, 2-3 minutes. Watch them carefully when toasting; seeds can burn quickly.