Ms B.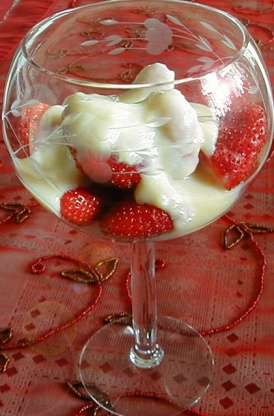 Quick and easy to make with ingredients you almost always have on hand. A wonderful end to a warm summer meal.

Top Review by Ms B.
I chose this recipe as one of the Pick A Chef recipes for November 2004. I had a few difficulties while preparing this custard. I didn't have any experience with this type of recipe, and expected a thicker consistency. Another chef advised me that this custard is actually a Zabaglione, which is not as firm. This info, along with replies from the posting chef were very helpful to me. During the prep, I whisked the mixture in the double boiler for 20 minutes without any thickening at all. I then transferred the the mixture to a saucepan over low heat and brought to a boil while whisking for another 15 minutes. Still, the mixture had barely thickened, but I then poured it into a bowl to refrigerate overnight. By morning, it had a sauce-like consistency. This consistency seems to be appropriate for the Zabaglione recipes I have since examined. After all of this confusion and frustration, the flavor of the custard is a redeeming factor. I served it over fresh strawberries and liked the complement of the sweet wine essence. This would be an excellent summer dessert.
Place all ingredients in a double boiler and set over (but not touching) boiling water.
Cook, beating mixture constantly and vigorously with a wire whisk, until custard thickens, about 10 minutes.
Refrigerate and serve cool.
Enjoy!