Wilted Spinach Salad With Roasted Kumara (Sweet Potato)
WiGal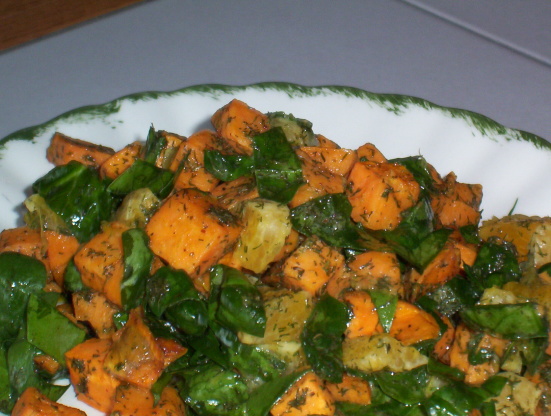 My daughter made me this salad once. She said that it was from the Meal-in-a-minute TV advert but this version doesn't use any Watties products. (Not that there is anything wrong with bottled sauces but I prefer to make my own dressing) This is a nice easy recipe that makes a good side dish to some steamed fish.

Fantastic recipe. I have made it several times but have not used the dill in the dressing and have not miss it. I use a whole lemon and we love the stronger citrus flavour. I have also used this recipe as a base and added other ingredients. We were low on baby spinach leaves on one occasion so I used sliced, then quartered cucumber (which gave it a crunch texture), approx 50gm spinach leaves and cubed left over roast chicken. The outcome was a delicious 1 dish meal loved by the whole family. I also found like others that the kumera needed approx 1/2 hour until it lost its crunch. Mr 11 and 12 enjoy making this recipe as it is so easy to make and loved by all. Outstanding potluck dish also - everyone wants the recipe. Thanks Ronanz
Peel and cut the kumara into bite sized cubes.
Toss in 2 tablespoons of olive oil and season with salt and pepper.
Bake in the oven for 15 minutes at 200C/400°F.
Mix the mustard, lemon juice, and zest for the dressing.
Add the olive oil a tablespoon at a time, whisking between each spoonful.
Add finely chopped dill.
Season to taste with salt and pepper.
Prepare the oranges by peeling and then cutting just the segments off the orange so that there is none of the tough bits. Squeeze any remaining orange juice in the fibrous bits into the dressing.
Put the spinach is a large bowl.
Add the roasted kumara straight from the oven and toss through the spinach to wilt the spinach. This works best if the kumara is still really hot.
Add the dressing and orange segments and toss through.
Serve slightly warm on a large plate and decorate with nasturtium flowers.