Whole Wheat Pumpkin Cornbread
Vraklis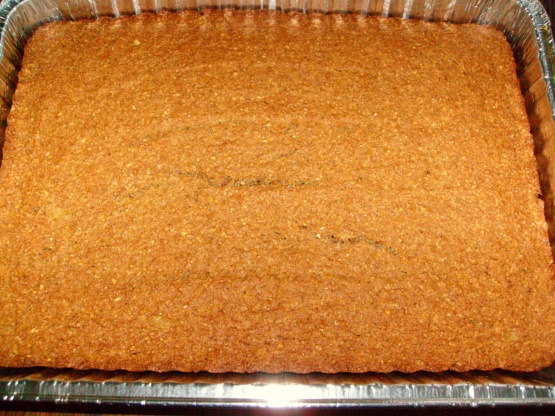 Higher in fiber and nutrients than the usual cornbread. Makes a good breakfast item. Original from an old mag, but I don't know which one.

Yum! I was making pumpkin puree today, wondering how in the world I would use it all (I made about 15 pounds!), when I came across this recipe and decided to give it a try. I was already making a batch of cornbread for my father, so I whipped this one up along with it. It's a very hearty bread b/c of the whole wheat (and I used stone-ground cornmeal as well), but moist and sweet. I'm thinking about making this to serve with Thanksgiving dinner. The only thing I changed in the recipe was I substituted buttermilk for the milk since that's all I had, but it turned out great, nonetheless!
Preheat oven to 350°F.
Spray a 9 inch square baking pan with nonstick cooking spray and coat lightly with flour.
Combine the first 8 dry ingredients.
In another bowl, beat the butter and sugar together until fluffy.
Add eggs and pumpkin and combine thoroughly.
Add dry mixture and milk alternately until all are incorporated and the mixture is smooth.
Pour into pan.
Bake 60-70 minutes, until tester inserted in center comes out clean.