Whole Wheat Bread (A B M)
jenne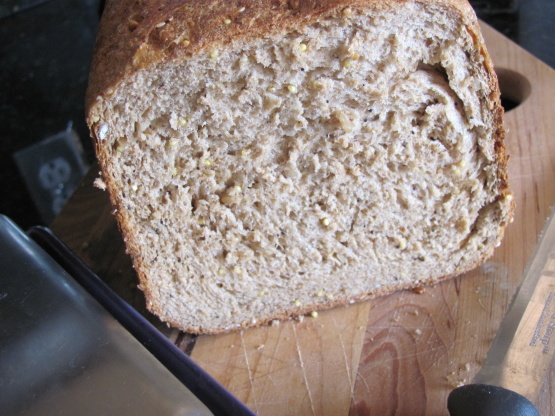 Based on a recipe from BH&G's book, Bread Machine Bounty. This is very simple to throw into your bread machine with delicious results. The default measurements are for the 1 pound loaf; I've listed the measurements for a 1 1/2 pound loaf in parentheses. When I make this, I make the 1 1/2 pound loaf and have had to add an additional 2 tablespoons of milk during the kneading cycle. I also use buttermilk when I have it on hand.

I made this bread tonight and it just turned out okay. (I made it on the dough cycle and then put it in a pan and baked it at 400 as another reviewer suggested, but mine was done in 25 minutes, not 35. Maybe because it was in a gas oven.) It was super light, and it was almost *identical* to the plain wheat bread you buy in the store. (You know the one next to the plain white bread - it doesn't have any nuts or oatmeal or anything - just plain.) It had the same texture, sliced the same, and didn't have hardly any flavor. But it's the best one I've tried yet that slices perfect and holds together/is bendable to make sandwiches. I just wish it had more flavor. :/ If anyone has any suggestions on how to make it taste more flavorful, I'd love to try it. :)
Add all ingredients to your bread machine in the order recommended by its manufacturer.
Use the whole wheat setting if available.