Whole Wheat Bread (A B M)

Based on a recipe from BH&G's book, Bread Machine Bounty. This is very simple to throw into your bread machine with delicious results. The default measurements are for the 1 pound loaf; I've listed the measurements for a 1 1/2 pound loaf in parentheses. When I make this, I make the 1 1/2 pound loaf and have had to add an additional 2 tablespoons of milk during the kneading cycle. I also use buttermilk when I have it on hand.
Directions
Add all ingredients to your bread machine in the order recommended by its manufacturer.
Use the whole wheat setting if available.
Reviews
Most Helpful
I made this bread tonight and it just turned out okay. (I made it on the dough cycle and then put it in a pan and baked it at 400 as another reviewer suggested, but mine was done in 25 minutes, not 35. Maybe because it was in a gas oven.) It was super light, and it was almost *identical* to the plain wheat bread you buy in the store. (You know the one next to the plain white bread - it doesn't have any nuts or oatmeal or anything - just plain.) It had the same texture, sliced the same, and didn't have hardly any flavor. But it's the best one I've tried yet that slices perfect and holds together/is bendable to make sandwiches. I just wish it had more flavor. :/ If anyone has any suggestions on how to make it taste more flavorful, I'd love to try it. :)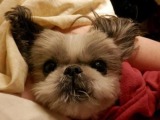 Love it! I actually made this by adding Katzen's Harvest Grain Blend for Bread. . .I did her hot overnight soak of 2/3 grain mix and 1 cup water, then decreased the amounts of milk and flour by the same. I made the 1.5 lb loaf and am glad I did! Thanks for posting! Made for my friend for Veggie Swap March 2010. <>

Great whole wheat bread, so much better than store bought. I made the larger loaf but it did not rise a lot. Very nice dense texture and slices easily. Enjoyed two slices with butter along with my Lori's Mexican Chili Crockpot Soup by Nif. Will make this bread again! Made and reviewed for the Cooking Game Forum's I Recommend Tag Game - February 2010.