Whole Roasted Shallots and Potatoes With Rosemary
-Sylvie-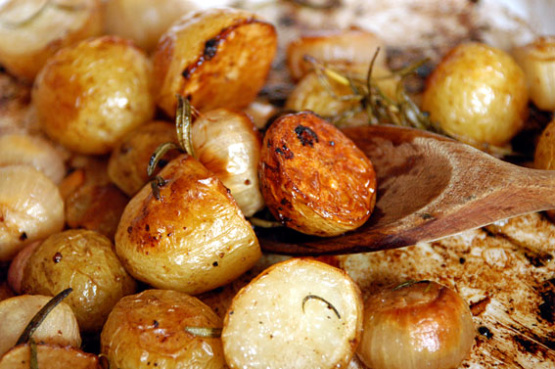 I wanted to roast shallots the other day and found this recipe on the back of the package. I'm so glad I tried it, it smells wonderful too! We had it with roast chicken, but I'm sure it would go equally well with roast lamb or beef.

I always make my roasties this way but to allow them to still go crispy I would recommend making up the olive oil/ rosemary/ balsamic mixture in a pestle and mortar just after you've put the veggies in to roast then adding it to them after they've been in the oven for 15-30 minutes. This way I get the crispiness I love as well as the flavours :)
Preheat oven to 180°C/350°F/Gas 4.
In a large baking tray mix the olive oil and balsamic vinegar (you can leave the balsamic vinegar out if you don't have any or don't like it), add the whole twigs of rosemary.
Add the shallots and potatoes, stir so everything gets coated well.
Season to taste with salt and pepper.
Roast, uncovered, for approximately 1 hour or until the potatoes are tender. Depending on the size of the vegetables and your oven, they might take a little less or longer, according to some reviews it might be worth checking after about 45 minutes.
Stir once or twice while roasting.