Whole Grain Swedish Rye Bread
juliaq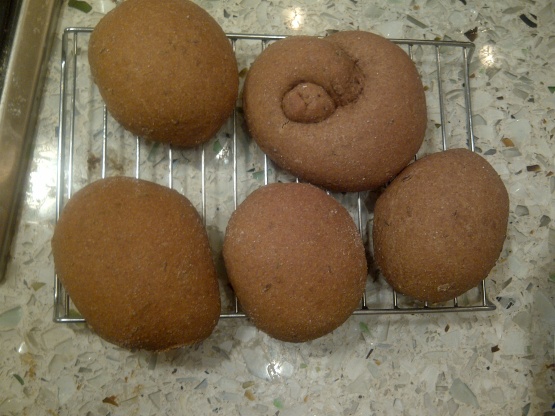 I love rye bread, but try to avoid breads with white flour. I got this recipe from a 1979 cookbook brom my mom called Bread Winners. This is the first recipe I tried in my new KitchenAid artisan mixer.

Yummy! Wish I could give 4.5 stars. I was looking for a whole grain rye bread recipe and settled on this one. I didn't want it too sweet so I left out the molasses and added a splash more water. It was a little while kneading but it worked out great. The bread was not as dense as I expected which is also to our liking.
combine honey, molasses, salt, butter and caraway, pour boiling water over, and set aside to cool.
Add yeast to warm water, stir to dissolve, and add to honey molasses mixture when cooled to lukewarm.
add 2 cups of WW flour to mixture and using dough hook, mix well.
add the remaining flours until you have a smooth dough that can be kneaded.
Knead for 8 to 10 minutes and place in lightly oiled bowl, cover and let rise until doubled in size (about 1 1/2 to 2 hours).
Punch down, turn out onto floured surface and knead for 2 minutes.
Separate dough into 2 equal parts, shape to fit 2 loaf pans.
Cover and let rise for another 1 1/2 to 2 hours until almost doubled in size.
Bake at 375 for about 30 minutes. If tops are browning too much, cover with foil for the lase 15 minutes.
Cool on wire racks, and enjoy with butter!
note- I leave the loaf pans in the oven for the second rise, and then just uncover and turn on the oven to bake, I add 5 minutes to the baking time to compensate for the preheating time.