White Chocolate Layer Cake With Cranberry Filling
gailanng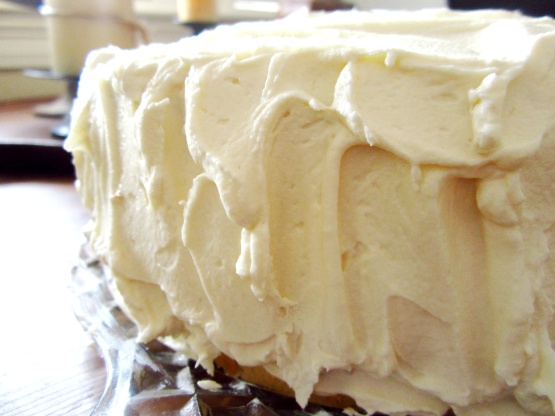 Talk about a winter holiday special! WOW. Four layers of snow drift white cake with the deep scarlet of a cranberry filling. Wait until you see it cut through it's creamy white frosting and are serving this gorgeous red and white striped cake. AND IT HAS CHOCOLATE *swoon*. What a perfect cake to serve at any special celebration. Christmas, a wedding, Valentines, and anniversary?. Times given do not include cooling time.

This is a wonderfully delicious cake! It was festive for the holidays. I went to three stores to try to find fresh cranberries, and at Christmas time, it just wore me out. So at the third store, I purchased raspberry preserves and used that for the filling. It was terrific. So even though I did not use the cranberries, I am still giving it 5 stars for the cake alone! I plan to try different fillings, such as blueberry and raspberrie for patriotic functions, and yes, eventually the cranberry. Thanks for the great recipe Anna
FILLING:.
In a medium saucepan, combine cranberries, the 1-1/4 cups granulated sugar, the cranberry juice, orange peel, lemon juice, cinnamon, ginger, and cloves.
Bring to boiling; reduce heat. Simmer, uncovered, about 10 minutes or until thickened. Transfer filling to a medium bowl.
Cover and chill for 2 hours. Transfer to a blender or food processor. Cover and blend or process until smooth.
CAKE:.
Meanwhile, preheat oven to 350 degrees F. Grease the bottoms of two 9x1 1/2-inch round cake pans. Line bottoms of pans with waxed paper; grease and lightly flour pans. Set aside.
In a medium saucepan, cook and stir the 8 ounces white chocolate over low heat until melted.
In a medium bowl, combine flour, baking powder, and salt, set aside.
In a large bowl, beat the 10 tablespoons butter with an electric mixer on medium to high speed for 30 seconds. Gradually add the 1 1/3 cups granulated sugar, beating until combined.
Add eggs one at a time, beating after each addition. Beat in the 1 1/2 teaspoons vanilla.
Alternately add flour mixture and milk to butter mixture, beating on low speed after each addition just until combined. Beat in melted white chocolate just until combined.
Spread batter in the prepared cake pans.
Bake about 30 minutes or until a toothpick inserted in the centers comes out clean. Cool cake layers in pans on wire racks for 10 minutes.
Remove layers from pans. Peel off waxed paper. Cool completely on wire racks.
FROSTING:.
In a medium saucepan, cook and stir the 12 ounces white chocolate over low heat until melted.
Cool for 20 minutes. In a large bowl, beat the 1 cup butter on medium to high speed until fluffy.
Beat in melted white chocolate and the 2 teaspoons vanilla. Gradually beat in powdered sugar.
ASSEMBLY:.
Use a long serrated knife to cut each cake layer in half horizontally. Place one layer, cut side up, on a serving plate. Spread with one-third of the filling.
Top with the second layer; spread with one-third of the filling.
Top with the third layer; spread with the remaining filling.
Top with the fourth layer, cut side down.
Spread top and side of cake with frosting. If desired, cover loosely and chill for up to 24 hours. Let stand about 30 minutes at room temperature before serving, if chilled.
Makes 16 servings.