White Chocolate Bark With Pistachios and Dried Cranberries
Jubes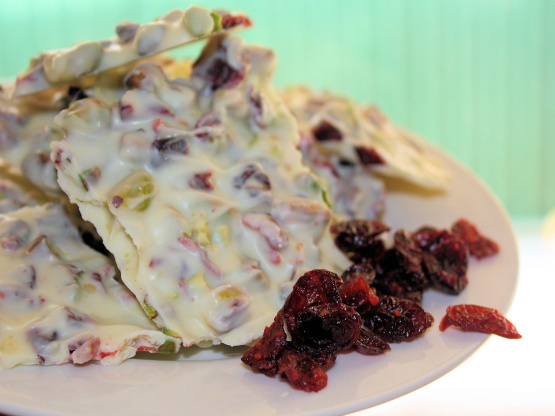 The original of this slightly tweaked recipe came from the food section of the Los Angeles Times, probably sometime in February 2010!, & I'm sure that RecipeZaar won't let me list the original chocolate which is 4 bars (3.5-ounces each) white chocolate (Lindt Swiss Classic). Preparation time does not include the time needed for the bark to chill & cool completely!

I should have rated this recipe sooner. I made this candy for Christmas gifts and it was a big hit with everyone. It was my first attempt at White Chocolate Bark, and if I say so myself, it was wonderful! I used Ghirardelli white chocolate chips and found a pistachio-dried cranberry blend at Fresh Market. Delicious, Easy, and Fast!!! Thanks, Alan
Place the white chocolate in a microwave-proof glass bowl, uncovered, & melt it in that appliance on 50% power, starting with 1 minute, then stirring & adding 20- to 30-second increments until completely melted. BE SURE TO WATCH IT CAREFULLY ~ Once it is totally melted, proceed.
Add nuts & berries, stirring to combine, then spread this mixture to the thickness desired on a parchment-lined baking tray.
Refrigerate 5 to 10 minutes, then remove the tray & let it set in a cool place.
When completely cooled, cut or break into pieces & store in an airtight container.