White Chocolate and Maple Rice Krispie Squares
gailanng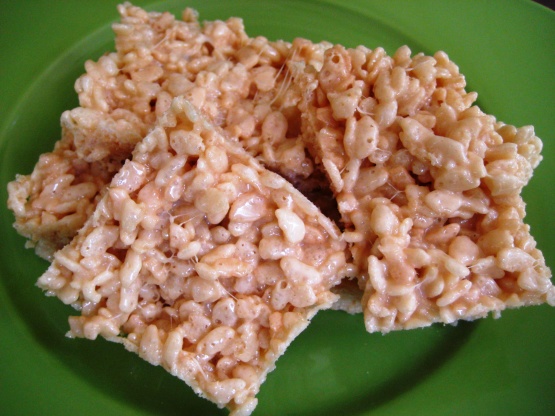 This is a yummy variation on the classic kids' treat. I like my rice krispie squares to be heavy on the mallow so if you prefer, feel free to add more rice krispies to the mix! I don't have easy access to good maple syrup this side of the pond so please feel free to adjust that amount too- 2 tablespoons of the fake stuff I get here is about right but you may need less of the real thing! If you want to make less, half of this recipe fits in a loaf tin beautifully.

Yummy! I did change the the marshmallow (4 cups):cereal (5 1/2 cups) ratio. I also omitted the white chocolate chips and added a handful raw cocoa nibs along with 4 Tbs of REAL maple syrup. I would like an even stronger maple flavour - so I may add some maple extract or sprinkle some maple sugar over top next time. I think adding more syrup might make them too sweet to my liking.
Line an 8x8inch pan with baking paper and set aside.
Melt the butter in a pan over a low heat.
Add the marshmallows and stir until melted.
Break up the white chocolate, add it and stir until melted.
Remove from the heat.
Stir in the maple syrup.
Add the rice krispies and mix them in.
Press into the prepared pan using a greased spatula to achieve a smooth top.
Put in the fridge to chill and set, around 10 minutes.