Whipped Beauregard Yams With Cardamom
Parsley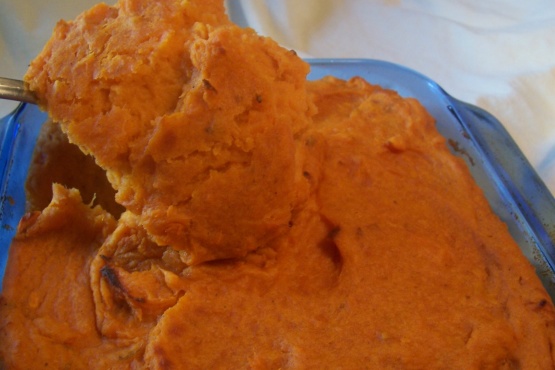 Two of my favorite things: yams and cardamom! A recipe from Bon Appetit November 1996 issue. Original recipe calls for sweet potatoes, which you can substitute but I like my Beauregards.

Deeee-licious! These are wonderful, smooth, creamy, savory way to enjoy yams. I doubled this recipe and I peeled my yams prior to baking and loosley wrapped them in non-stick foil. I followed everything else exactly. I'm wondering how a splash of vanilla would be in this....hmmm...I'll have to experiment. I'm making this to take to a family Thanksgiving dinner next week! Thanx for sharing!
2 1⁄2 lbs beauregard yams (or your favorite variety)
1⁄3-1⁄2 cup butter, room temperature
1⁄2 cup whipping cream, heated slightly
1⁄2 teaspoon ground cardamom
1⁄8 teaspoon freshly grated nutmeg
Preheat oven to 425 degrees. Line a baking sheet with aluminum foil. Pierce each yam with a fork several times and place the yams on the baking sheet.
Bake yams until tender, about 1 hour depending on size.
Decrease the oven temperature to 350 degrees. Peel the warmed yams and place in a heavy mixing bowl.
Beat yams with electric mixer until mashed. Next add the butter, whipping cream, ground cardamom and grated nutmeg. Whip until smooth and creamy.
Season with salt and white pepper.
Transfer potatoes to 3 quart oven-proof baking dish and bake until heated through and beginning to brown on the top, approximately 30-35 minutes.
Season to taste. Serve warm.