"weight Watchers" "ice Cream" Sandwiches Del
PanNan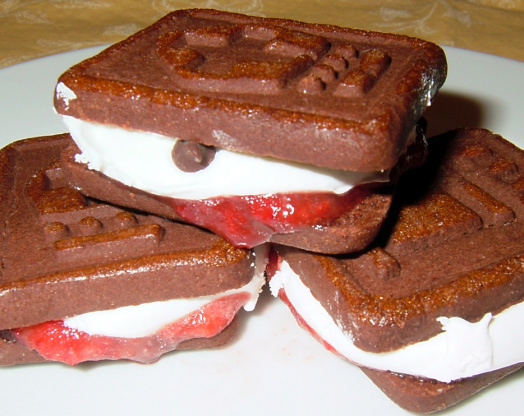 These are soooooooo good, low cal, can be made ahead and are fancy enough to serve to company. These are supposed to only be 2 points apiece.

What a wonderful little snack!!! I had to use what I had on hand: low fat cinnamon honey graham crackers, sugar free strawberry jam & whipped cream from the can :-). I think it takes a few hours to freeze so it's good to make them beforehand. Thanks so much!
2

tablespoons Cool Whip Lite
1 1⁄2 teaspoons raspberry spreadable fruit
1 1⁄2 teaspoons miniature chocolate chips
Break Graham cracker in half.
Spread fruit spread on top of one half.
Spread cool whip on top of that.
sprinkle with chocolate chips.
Top with other graham cracker half and squoosh down.
Freeze.
Eat.