Weight Watchers Fiery Crab Fettuccine
teresas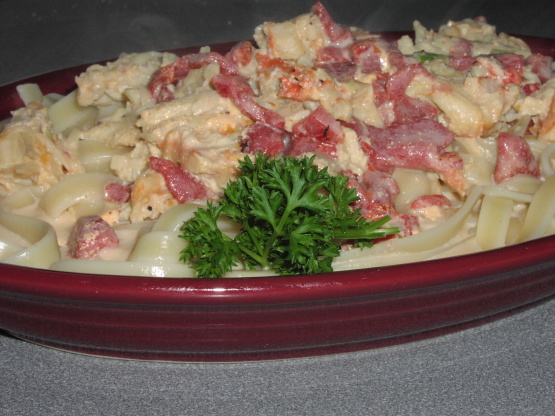 I got this recipe off the Weight Watchers site Yield 2 servings at 7pts. 371 calories 2g fat 2gfiber. This is estimated so be sure to do your own calculations!!!

I was really disappointed in this dish. I had such high hopes. The flavor was really good but there was just too much liquid. I would suggest you cut the broth in half as well as the half and half. It was very difficult to eat. It was like a running pasta dish. I did spray my pan with cooking spray before sauteing the green onions and the recipe never said when to add the celery salt and pepper so I did it during step 3. The crab and the roasted red pepper were very flavorful and the sauce was also good. The overall dish just was lacking the right consistency. Thanks for letting me try your recipe. :)
Cook and drain pasta according to package directions.
In large skillet saute green onions. Add 1 cup of broth. Combine 1/2 cup broth with cornstarch and set aside.
Add crab meat and red peepers and creole seasoning. Bring to a boil. Add cornstarch stock and simmer until thickened. Add half and half and simmer 3 minutes.
Serve sauce over fettucine.