threeovens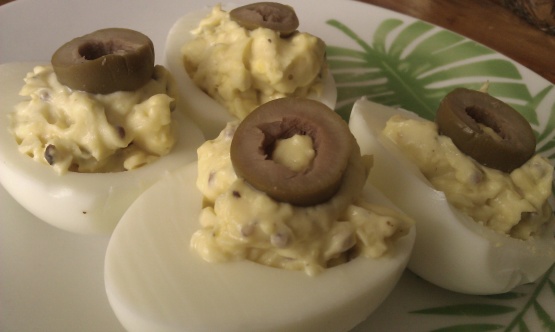 This is from Caribeanchoice.com and is for Zaar world Tour 5. This is from the country of Aruba.

A very good take on deviled eggs! DD loved them. :) The worcestershire sauce gave them the briney flavor that usually comes from the pickles/relish. Good if you like classic deviled eggs, but not pickle chunks. Me, I like dill too much for these to become my favorites. :)
Place 6 eggs upside-down (smallest tip down) in the fridge for at least 6 hours this is to center the egg yolk.
Then boil the eggs for at least 12 minutes or until hard boiled. Remove the shells and slice the eggs in half beginning at the smallest tip.
Now separate the yolks from the whites; set the eggwhite halves aside on a serving plate and place the yolks in a bow.
Mash the yolks, smoothing all lumps while adding the following ingredients: plenty of Mayonnaise, a pinch of salt, then black pepper, mustard, and Worcestershire sauce to taste.
Combine the last ingredients carefully without making the mix too salty.
When ready insert the yellow purée in a piping bag, and fill the eggwhite halves.
Garnish with parsley or a sliced olive.