Walnut Raisin Whole Wheat Bread
Annacia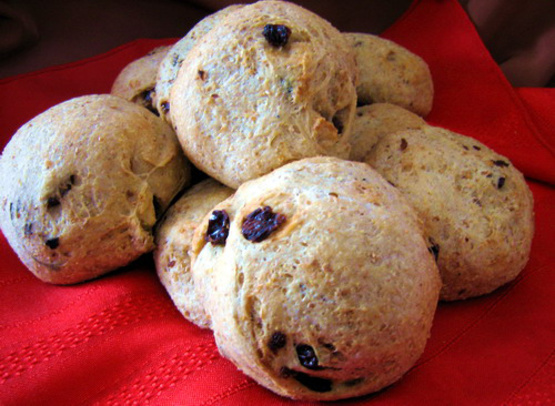 Wonderful flavor and the walnuts and raisins give it great texture. Try this bread lightly toasted with a sharp farmhouse Cheddar cheese for breakfast! Adapted from the New Basics Cookbook.

This was a delicious bread with a nice texture. I have been looking for a recipe to mimic the walnut raisin loaf I used to get at the bakery. Seems like this "flavor" has gone out of vogue, but that doesn't mean we still done want to eat it, right? My family loved to have it along with chicken salad, to us the combinations was perfect and now it still can be enjoyed. While the two loaves were cooling, half of one magically disappeared while sitting on the cutting board. Funny how that happens when there is HOT bread in the house. Thank you for sharing your recipe Sharon.
Combine yeast, warm water, and milk in a large bowl. Let the mixture stand until the yeast has dissolved, about 5 minutes.
Add the sugar, 1/2 cup cornmeal, butter, walnuts, raisins, salt, pepper, whole wheat flour, and 2 cups of the white flour. Beat well. Move the dough to a lightly floured surface and knead for 2-3 minutes, adding the remaining white flour as necessary to make it workable. Let the dough rest, covered loosley with a towel, for 10-15 minutes.
Knead the dough again, until it is smooth and elastic, 8-10 minutes. Sprinkle with extra flour if you need to keep it from sticking.
Oil a large bowl and turn the dough in it to coat with the oil. Cover the bowl and let dough rise in a warm place till doubled in bulk, about 1 1/2 hours.
Punch dough down and divide in half. Shape the halves into round loaves. Sprinkle a baking sheet with the remaining 2 tbls. cornmeal, and put the loaves on it, seam side down. Cover with the towel, and let them rise until doubled in bulk, about 45 minutes.
Preheat the oven to 350*F.
Place the baking sheet on the center rack of the oven, and bake until the bread is well browned and sounds hollow when the bottom is tapped with your finger, 45 minutes.
Cool bread on a wire rack. Enjoy!