Annacia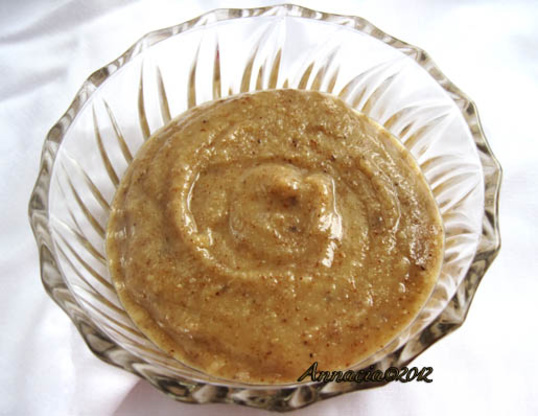 If you get tired of store-bought peanut butter and almond butter, why not make your own walnut butter? It's so easy! Mollie Katzen adds a little cinnamon and honey! It's best to refrigerate since there are no preservatives.

I love making homemade nut butters but this is the first time I've tried walnuts. Made as directed and after tasting I added 1/8 tsp of kosher salt and that tiny bit lifted the flavor nicely. I think that I'll try using a tad less oil next time. Currently it's fresh out of the food pro and fairly liquid but that could change to a better spreading consistency after some standing time. Thanks for sharing Jen :D
Preheat oven to 350 degrees.
Spread nuts in one layer on a baking sheet. Toast until fragrant and lightly colored, about 10 minutes. Stir about halfway through the baking time.
Add nuts to a food processor, discarding any dried skin and dust. Add the salt and chop the nuts finely. With the motor running, drizzle in the oil. Whirl until the nuts are ground into butter, stopping to scrape down the sides two or three times.