CindiJ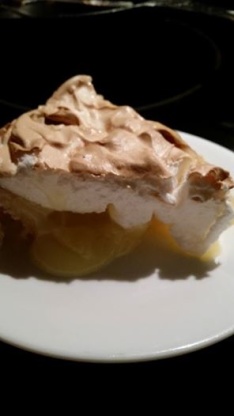 Another great recipe from the depression era. My great grandmother made this often as she always had eggs on hand. Today, when we make this pie, everybody thinks it's Lemon Meringue Pie. One taste and you'll love this too!

It was just like a Lemon Meringue Pie! This came out very good!
1 1⁄4 cups sugar

3

egg yolks, beaten

6

tablespoons vinegar
1⁄3 cup flour

2

cups water

3

tablespoons butter
1 1⁄2 teaspoons lemon extract

1

(9 inch) pie shells, baked and cooled
In medium saucepan mix together sugar, beaten egg yolks, vinegar (cider or white), flour and water.
Cook over medium heat stirring constantly until thick.
Remove from heat.
Add lemon extract and butter.
Continue to stir until butter has completely melted.
Pour into baked pie crust.
Top with meringue, made with left over egg whites, and bake in 350ºF pre-heated oven until golden brown.
Let cool and serve.