Vietnamese-Style Grilled Beef Wrap-Ups
teresas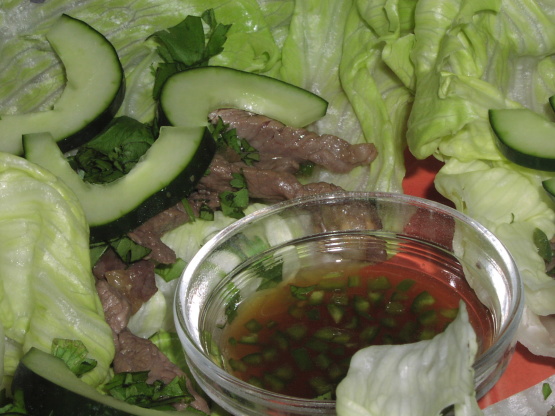 This is from a magazine clipping. Prep time includes chilling time.

I really enjoyed the flavors but DH didn't care for it. I did omit the oils in the marinade and the mint only because I didn't have any mint available. This is very easy to prepare. I'm keeping it for just me when DH is out of town. Thanks for posting. :)
Marinade and beef:
Puree shallots, garlic, jalapeno, fish sauce, oils, sugar and lemon rind in blender or food processor.
Mix with beef, tossing to coat.
Cover and refrigerate 30 minutes.
Broil 1-2" from heat until seared and just cooked through, about 2 minutes per side.
Dipping sauce:
Combine all ingredients.
To serve: place some beef, cilantro and/or mint, and a few pieces of cucumber on a lettuce leaf.
Roll up.
Dip in sauce.