Laura V.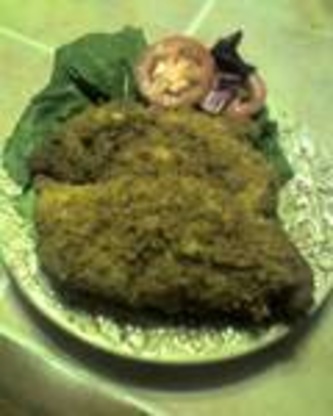 Shake and Bake No carb style

This was an excellent recipe, in spite of the ways I messed with it. I was simply too lazy to drag out the food processor, so I crushed up the pork skins right in the bag. I was completely out of Italian seasoning, so I improvised. I used seasoned salt and whatever else looked good--basil, oregano, etc. I added a healthy dose of cayenne pepper. It may not have been fried chicken but it was tasty and satisfying.
Take the pork skins and crush them until they are like bread crumbs. (I use my food processor) Add the Mrs. Dash garlic herb, onion powder, Italian season, black pepper, sea salt into a zip-lock bag and set aside. Then mix the mayo, whipping cream and egg in a bowl. Rinse the chicken and then coat it with the mayo whipping cream and egg mixture. Take each piece and place in the zip lock bag and shake. Take it from the bag and place it on a well greased pan. You can grease the pan with bacon drippings or use 0 carb cooking spray. Bake at 375 until golden brown. Make sure you cook all chicken well done. Enjoy.