Pneuma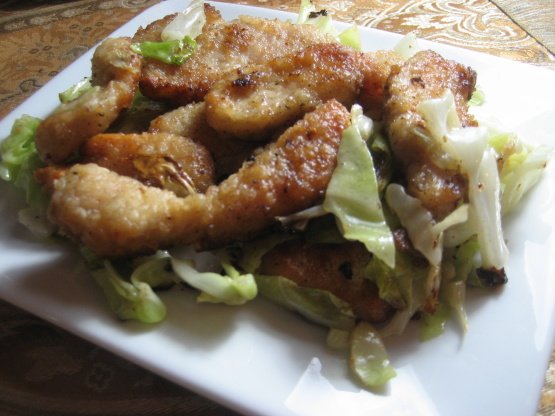 This is my version of the seemingly infinite variety of lemon chicken recipes. It is a mixture of half a dozen different ones I have tried. I settled on this because it is seriously easy to make and very versatile. The amount of butter, flour and seasoning is really just a matter of taste. However, if you can, use organic chicken because it isn't pumped full of water and nonsense which can ruin the thick gloopy sauce. You can add whatever you like to it while it is cooking and serve it with anything. My favourite is pasta (conchiglie or penne) and mushrooms or homemade garlic potato wedges. Yummy!

Top Review by Pneuma
Made this a week ago, but forgot to post the review. It's simple but great- done in less than 20mins from prep to cooking time. I usually like cooking chicken fingers this way but what's new here to me is covering it and adding veggies in it too. I played it safe and mixed it with cabbage. It's really good and the lemon wasn't overpowering. With it's versatility, I'll be trying this with other veggies too. Thanks! Made for PAC Spring 2009.
Juice the lemon.
Mix the flour, salt and pepper on a plate.
Cut the chicken into long strips.
Thoroughly coat the chicken in the flour mixture.
Melt half of the butter in a frying pan (that has a lid for later).
On a very high heat add the chicken to the butter and quickly brown on both sides.
Reduce the heat, add the rest of the butter and let it melt.
Add the lemon juice and cover the pan. NB If you want to add mushrooms or other veggies now is a good time.
The chicken will be ready in approximately 10 minutes - I stir it occasionally but that isn't necessary.
Serve the chicken with the lemon butter mixture as the sauce.