Veggieful Oven-Baked Chili
Redsie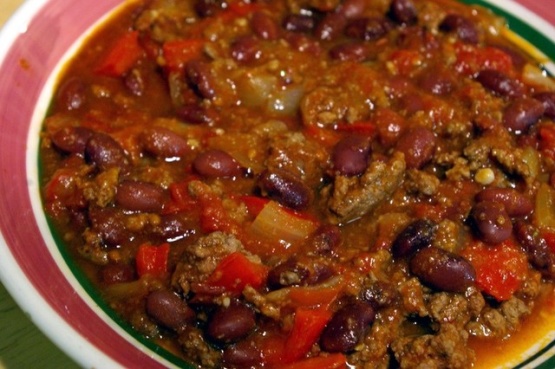 This robust chili will take the chill off on a cold winter night.

Top Review by Redsie
Annacia... I cheated... I didn't used vegeterian ground beef... used the real kind... This made for a delicious spicy chili. The smell was heavenly and the taste too!! Used fresh kidney beans that my DBF prepared for me. Made for Photo Tag. Thanks Annacia! :)
In a large skillet, warm the veggie burger a bit.
Add the chopped onion, and cook until the onion is soft and the garlic, tomatoes, tomato paste, peppers, spices, and cornmeal, stirring to combine and allowing to simmer for about 1 minute, just till everything is hot.
Spoon the chili into an ovenproof 2- to 2 1/2-quart crock or casserole dish; add sufficient water to cover.
Cover the dish, with a lid or foil, and bake the chili in a preheated 275°F oven for 1 1/2 to 2 hours.
Stir the chili after 1 hour, adding a bit of tomato juice or water if most of the liquid has evaporated, and it seems dry.
Half an hour before serving, stir in the beans, and cook until heated through. Garnish the chili with fresh cilantro and and grated veggie cheese (with a bit of lime zest added to it), if desired.