Debbwl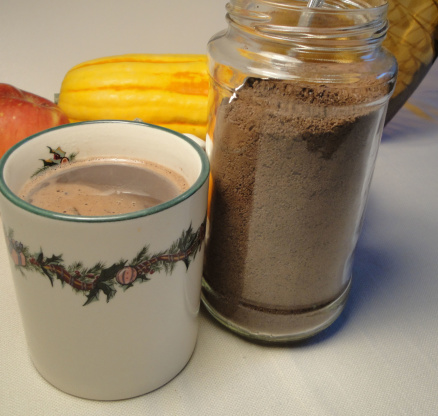 No powdered milk in this one! I have stopped using dairy milk pretty much, so now I can use the non dairy milk of my choice. Try almond, soy, rice, flax, or whatever you want.

Delicious. I made this with Splenda for the sugar and bittersweet chocolate. For making it I used Silk brand True Almond milk (vanilla). It was silky smooth and chocolate enough to please anyone. Photo's may be seen here (in Christmas Delights): http://feastyoureyes.smugmug.com/
Combine the dry ingredients in a bowl. Mix well.
Stir in chocolate chips. Store in an airtight jar or container.
To make:
Add 2-3 tbls.(or more, depending on how chocolaty you want it) of hot chocolate mix to 1 cup of milk in a pan. Heat, stirring, but do not boil, about 6-7 minutes to melt chips and get nice and hot.
Enjoy!