Valentine's Day Molten Chocolate Cakes for Two (Or More!)
Nicki C.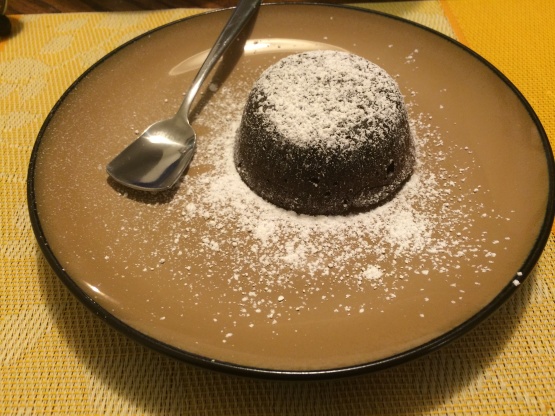 OMG! These are to die for!!! Got these out of our local paper for the holiday and just made them. I used Giardelli's bittersweet choc. chips, Sucanat and whole wheat flour, but you may use whatever you have. I doubled the recipe and got 5 custard cup sized cakes. If you want more choc. lava, bake them for 10 minutes, less, 11-12. This is so quick and easy and it looks like you slaved in the kitchen, yet takes a total of 20 minutes from beginning to end! Wish I would have seen the recipe b4 my anniversary (which happens to be the 15th).
If making and serving the cakes at once, preheat oven to 425°F Butter two 3/4-cup ceramic ramekins or ovenproof glass custard cups.
In double boiler or in the microwave, melt butter with the chocolate, stirring to combine. Remove from heat immediately.
In medium bowl, whisk egg and yolk lightly, then add sugar and salt ans whisk until blended and slightly paler and thickened, about 1 minute.
Slowly whisk in the melted chocolate, in a stream, then whisk in flour.
Divide batter between buttered ramekins.
At this point, ramekins can be refrigerated for a day if preparing in advance; cover them loosely with plastic wrap once they're cool.
Bake cakes on a baking sheet in preheated oven about 10 minutes if preparing immediately, up to 14 minutes if baking after refrigerating. Go by appearance, rather than time: The cakes should be firm on the outside and dry across the top, but the center 1 inch or so should still be quite wobbly.
Remove from oven and let stand 1 minute. Run knife around sides to loosen, then turn them out onto individual serving plates.
Sift powdered sugar over them, if desired, and serve with a scoop of vanilla ice cream.