loof751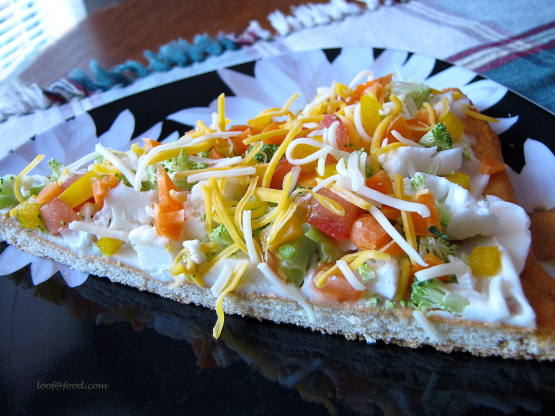 This delicious appetizer is a bit different than those already posted in that it doesn't call for cream cheese, mayonnaise or ranch. I've been making it since I entered it in one of my first 4-H competitions when I was young; it's always delicious. It makes a really pretty presentation! Great for a wedding or baby shower. I got the recipe from our local paper. Guessing on the preparation time. This is my first recipe to post, so I hope you enjoy it as much as I do! The amount of veggies is an estimate; I usually chop them into fairly small pieces and just pile it on! Please make this your own and use whatever vegetables your family and friends enjoy!

Great, easy, veggie-ful "pizza"! I didn't add the hard boiled egg, and used cauliflower, broccoli, carrots, tomato, and yellow bell pepper as my vegetables. The dip was a great base; I used just enough to get the veggies to "stick" and thought it added a great flavor. Thanks for sharing the recipe!
Preheat oven to 375 degrees.
Separate dough into triangles; place on a greased 12 inch pizza pan. To form crust, firmly press perforations together to seal and pat into shape. Brush with beaten egg.
Bake until golden brown, about 8-10 minutes. Cool crust completely.
Spread dip onto cool crust. Then sprinkle with broccoli, cauliflower, carrots, tomatoes, green onions, olive and eggs.
Top with cheeses.
Cut into wedges to serve.