Unknownchef86's Coconut Surprises
Marlene.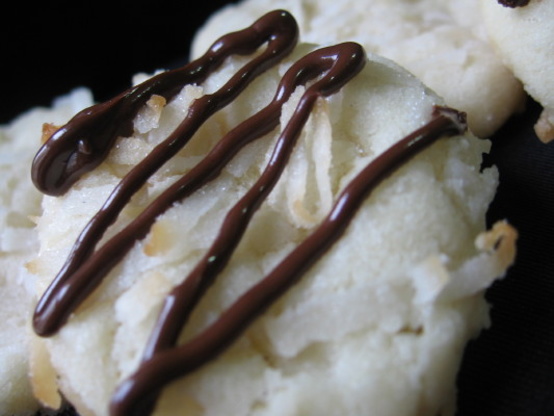 These taste like the inside of a Mounds bar! If you like, drizzle or dunk them in melted chocolate for a Mounds wannabe! The amount made is a guesstimation, as I don't remember exactly how many cookies this makes.
Cream shortening with vanilla.
Add sugar gradually, beating til fluffy.
Add egg and beat well.
Thoroughly blend in 1 3/4 cups coconut.
Combine flour, salt, and baking soda.
Add 1/2 of this mixture to the creamed mixture; mix well.
Add remainder of mixture; stir til it holds together.
Shape into 1" balls.
Roll in remaining coconut.
Place 3/4" apart on lighly greased cookie sheet.
Bake at 325 for 15-20 minutes.
Let cool on cookie sheet, then remove.