Rita1652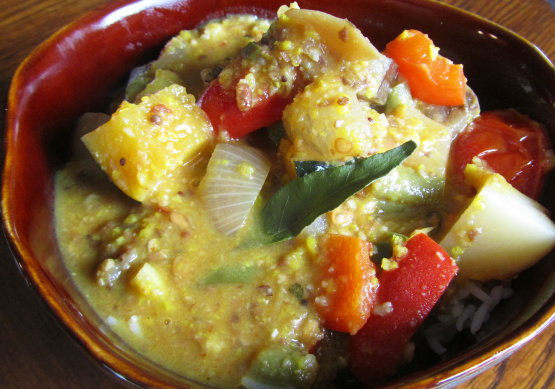 This is the recipe served in the famed Udipi restaurants (the exponents of Mangalorean cuisine worldwide) with dosas and idlis. Posted specially for a friend on request :)You do not need sambar powder with this recipe. Omit whichever veges you cannot find. You can make this without veges too :) Cooking and preparation time approx.

This is tangy, sweet and spicy. In place of the small onions I used one large. I did use way more then 2 cups of veggies more like 6. My choice of veggies was potatoes, eggplant, acorn squash, green beans, and tomatoes, all home grown and one red bell pepper. Skipped the Hung just not my thing! But garlic is so I used it in place of it. My choice of oil was coconut oil. Which is not included in the list or nutritional facts. Instead of grinding the spice mixture I added it to the food processor along with the coked dal and processed till smooth. Served over rice.
118.29

ml tuvar dal

2.46

ml fenugreek seeds

4.92

ml Urad Dal

22.18

ml coriander seeds

5

sprig curry leaves

0

coconut, grated

25-30

shallots, cleaned and peeled. (small red onions called sambar onions in india)

2.46

ml mustards seeds

0.25

ml hing

473.18

ml chopped into big chunks vegetables, of choice (brinjals, carrots, french beans, pumpkin, yam)

50

ml tamarind pulp (lemon sized ball of tamarind soaked in 1/3 cup of water.)

1.23

ml salt

7.39

ml jaggery or 7.39 ml brown sugar, can be substituted i guess
oil
Cook the tuvar dal till tender then mash.
Heat 1 tblsp oil in a heavy bottomed pan and roast the fenugreek seeds till light red, then add 1/2 tsp urad dal and let it saute till they change colour too.
Add the red chilli and coriander seeds.
Add a 3 sprigs of curry leaves and the grated coconut and roast.
They should all turn light brown and aromatic.
Cool and grind to a fine paste with a little water.
Heat 1 tblsp oil in a pan.
Add the mustard seed.
When they splutter add 1/2 tsp of urad dal and the hing.
Fry for a minute.
Add the onions and green chillies, slit and the rest of the curry leaves.
Add your choice of vegetables Fry till you get a nice aroma.
Add a little water.
Cover and cook till the veges are done.
Extract pulp from the tamarind and add to the vegetables.
Add salt and crumbled jaggery (you can use brown sugar i think instead) and cook till the raw smell of the tamarind disappears.
Add the mashed dal and the ground masala.
Mix weel and add a little water if reqd.
Simmer for a few mins.
Serve with dosas, idlis or rice.
And enjoy.