BecR2400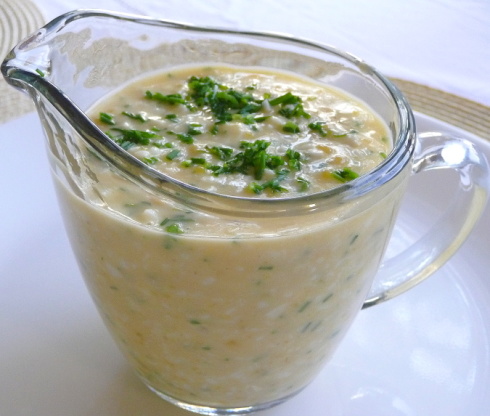 This is a specialty sauce originating in South Tyrol in the town of Bolzano, in the Italian Alps. Serve Bozner Sauce over fresh white asparagus spears. Note: Measurements are approximate. If you would like a lighter version of this sauce, you can stir in a small container (about 6 ounces) of plain yogurt. Enjoy!

oh myyyyy....this is heavenly.... kind of a cousin to hollandaise. I have tarragon dijon & this seemed the perfect place to use it. For awhile I was thinking this is the perfect place to use a food processor...the oil wouldn't combine & I slopped it all over the darn place. But then it did. I served this over roasted asparagus. NO leftovers. I licked the bowl. Yes, indeedy. I will certainly make this again. Even the eggs cooperated & peeled easily. An omen for sure. ;) Thank you! Made for German Tag Contest 5/12.
Peel the cooled hardboiled eggs and separate the egg whites from the yolks.
Press the yolks through a fine mesh strainer into a medium bowl. Combine the yolks with a tablespoon of mustard (I use Dijon); season to taste with salt and pepper. Drizzle about 2/3 to 3/4 cup of vegetable oil in a continuous stream, whisking all the while, until sauce is smooth, thick and velvety.
Whisk in 1 teaspoon of vinegar and the juice from 1/4 to 1/2 of a lemon (again, to taste).
Finely chop the egg whites and whisk them into the sauce. Whisk in about 1/4 cup (or less) of finely chopped fresh chives.