Prep 20 mins
Cook 1 hr 10 mins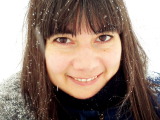 Another recipe from my dear friend. No doubt an effort to make homemade buns something SHE didn't always have to do FOR me!! (prep time includes kneading; passive/cook time includes rising time)
Directions
Mix yeast well with first 4 cups flour.
In a large, lightly greased mixing bowl, place flour and yeast and add remaining ingredients, adding approximately another 4 cups of flour to form soft dough.
Cover and let rise 15 minutes and punch down.
Let rise again for 10 minutes and then form buns, placing on cookie sheets.
Let rise in warm place (in the oven with the light on) for 30 minutes.
Bake 15 minutes at 375°F.
Reviews
Most Helpful
This is a great recipe! I follow the recipe as is and my buns are perfect everytime. The amount of time they take and the quality of the outcome is awesome. Thank-you for the recipe
These buns turned out just GREAT! I used 1 teaspoon of salt, a bit less than 1/2 cup sugar, and about 3 3/4 cup additional flour instead of 4 cups. They're delicious, and so quick! Thanks!