Two Grain Cranberry /Applesauce Bread
Annacia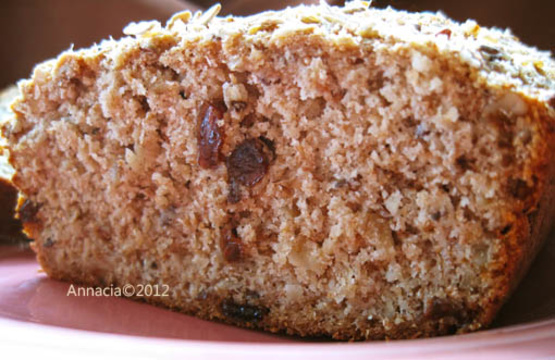 Spread with light cream cheese;add some fresh fruit and a glass of orange juice, milk or coffee for a satisfying breakfast. Or pack it up for a portable breakfast. Nummmmy!!! from Canadian Living Mag.
In a large bowl, beat butter with sugar until light and fluffy.
Beat in eggs, one at a time.
In a separate bowl, whisk together all but 2 tablespoons of the rolled oats, the all purpose and whole wheat flours, baking soda, baking powder, salt and cloves.
Add cranberries and pecans.
Stir into butter mixture alternately with applesauce, making 3 additions of oat mixture and 2 of applesauce.
Scrape into parchment paper lined or greased 9 x 5 inch loaf pan.
Sprinkle with reserved rolled oats.
Bake in centre of 350f degree oven until tester inserted in centre comes out clean, about 65 minutes.
Let cool in pan on rack for 10 minutes.
Turn out onto rack and let cool completely.
Make-ahead: Wrap in plastic wrap and store at room temperature for up to 2 days or overwrap with heavy duty foil and freeze for up to 1 month.