Tutti-Fruity Tofu Smoothie
If you would like to add some soy protein to your diet, this is a great smoothie--a really good way to get two serving of protein at one time. I am not vegetarian, just trying to eat healthy, so I use powdered milk and water, but you could substitute soy milk. I used firm tofu and it still turned out very smooth. It's a very versatile snack or meal-on-the-go.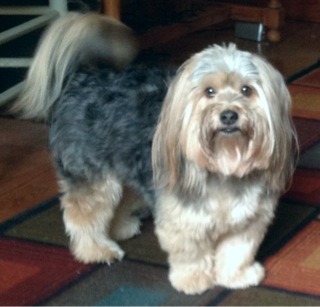 I make these smoothies all the time. They are nutritious and delicious. My favorites are with strawberries or an orange which must be pureed to grind up the pulp.
4

ounces peaches or 4 ounces pears or 4 ounces pineapple or 4 ounces fruit cocktail or 4 ounces frozen bananas or 4 ounces strawberries or 4 ounces cranberry sauce or 4 ounces applesauce (whatever you like--I like to use the little plastic containers for kid's lunch boxes, that have been)

3

ounces silken tofu or 3 ounces firm tofu, drained.

3

tablespoons dry milk, plus

4

ounces water (OR 4 ounces of soymilk)

3

tablespoons sugar or 3 tablespoons other artificial sweetener (or to taste, depending on fruit, I use Splenda)

2

ice cubes, can be added and use 1 less ounce of water to make it slushy (optional)
Dump all ingredients in blender.
Do not thaw fruit.
Use pulse feature of blender until fruit is crushed and smooth.
Use liquify feature of blender for about 2 minutes to liquify and aerate the smoothie.
Pour in pretty glass and enjoy your delicious protein!