Turkish Onion Soup/Sogan Corbasi
awalde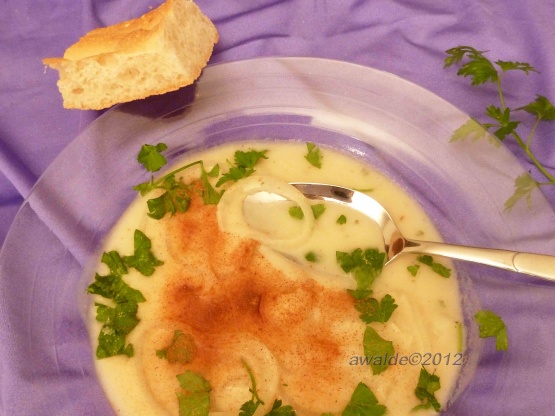 From turkishcookbook.com. This delicious soup was very quick and easy to make! As part of my ongoing journey to learn Turkish cuisine...the very most a working knowledge.

I didn't quite simmer this for quite awhile hoping to tone down the wine flavor which i thought was way too strong. i think it would be better with more veggie stock & less wine. but my onions were cooked perfectly. i halved them then sliced them thinly. dd & I had this for lunch yesterday & she loved it. This makes a nice summer onion soup! ;) made for na/me tag. thans, cg!
2

tablespoons butter plus 1 teaspoon butter

1

garlic clove, minced
salt, to taste
pepper, to taste (I added white pepper with the garlic and black pepper for garnish)

3

tablespoons flour

1

large white onion, cut into 1/4 inch slices, rings separated

1

cup whole milk
1⁄2 cup- 1 cup white wine (read *Note)

1

cup vegetable broth (can substitute chicken broth)

Garnish
*Note, update 1 July 2011: I reduced the amount of wine to 1/2 cup from the original 1 cup. A few reviewers mentioned that there was an overpowering wine taste. Test soup with one half cup wine, then add more if you want a more pronounced flavor. Thank you, reviewers! You keep Cookgirl on her toes!
In a medium pot, melt the butter on low-medium heat. Add the garlic, salt and white pepper. Saute just until the the garlic starts to smell-only 45 seconds to 1 minute max.
Whisk in the flour.
Add the onion rings then slowly pour milk in the pot while stirring constantly. Pour in the wine and vegetable broth, stirring slowly. Cook until the onions are tender on low heat, stirring occasionally. *Be careful not to boil the mixture!*.
Immediately ladle into individual bowls. Sprinkle with a light touch of ground cinnamon on each serving.
Garnish with fresh parsley.