ILKER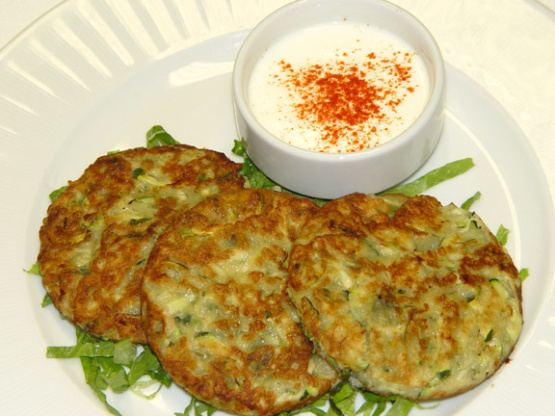 deep fried patties of grated zucchini with dill eggs and flour, part of traditional turkish summer dinner table

Usually I try a recipe before rating it (and I will certainly be trying this one), but I have been looking for a similar recipe for a long while. Thank you so much for posting this, Ilker. My father lived in Turkey and my stepmother is Turkish. My family loves Turkish food and this is a dish that I have eaten there.
squeeze the juice of grated zucchini.
mince dill, onion, spearmint and parsley.
mix with grated zucchini
add eggs flour, salt, pepper and baking powder
mix all to form a batter
pour tablespoonful of batter into hot olive oil in the pan.
Fry in hot oil for 3 minutes each side.
serve hot with turkish yogurt with garlic.