PaulaG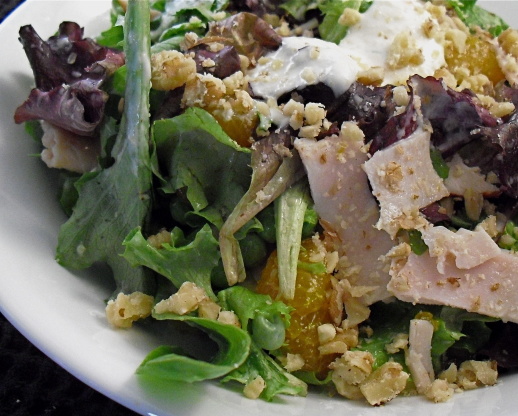 This recipe came from an old newspaper clipping. It was in the weekly advertisement insert for our local Randall's grocery store. If you don't have leftover turkey the roast turkey lunchmeat from the deli works well too....

I made this today using leftover chicken and couldn't be happier with it. The fruit addition really elevates it above the ordinary. All I had was red leaf lettuce, it was delicious and added to the color. I made just 1 serving for lunch. This is a marvelous recipe that I'll surely make again and recommend.
Toss the cubed turkey, diced celery, thawed peas, oranges, and chopped lettuce in a large bowl.
In a smaller bowl, mix the yogurt and pineapple (with juice).
Toss the salad with the dressing. Chill 2 hours.
Sprinkle with walnuts before serving.