Nif_H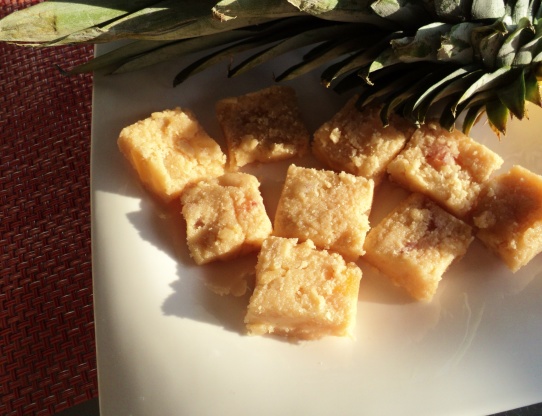 This has no chocolate in it, so perhaps it should just be tropical candy, but oh well! :) Time listed doesn't include cooling time.

Top Review by Nif_H
At first I wondered about how this would taste and how it could be called fudge with these ingredients? Well, after it's made, it all makes sense! I used a mixture of candied pineapple, papaya and mango for this. I made as listed but I would recommend NOT waiting for the mixture to cool completely before adding the fruit. It is solid when it cools completely so I couldn't get it to set very well and it was quite crumbly. If you want something super sweet, then this is for you! Made for ZWT8. Thanks iewe! :)
Grease an 8 inch square cake pan. Combine the evaporated milk, sugar and pineapple juice in a saucepan. Heat to 238F (soft ball stage), stirring constantly.
Remove from heat and stir in the butter until melted. Let stand - without stirring - until completely cool.
When cool, add candied fruit and lemon juice. Beat until crystallized.
Pour into prepared pan and score top with knife in 1 inch squares. Let sit until hardened.