Trisha Yearwood's Cowboy Lasagna
gixxers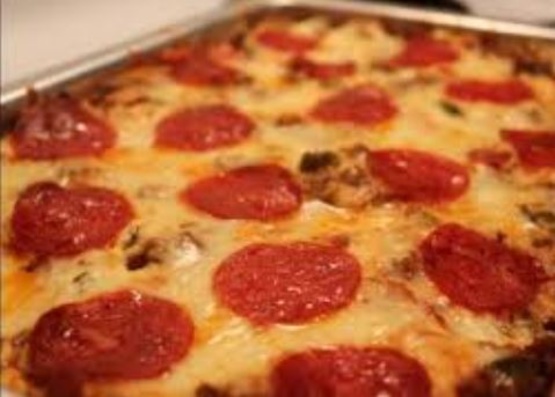 From her cookbook, Home Cooking with Trisha Yearwood.

I have cooked this twice and both times was for a large group. It was loved by all!!! The only thing I did different was to use 1/2 of the amount of pepperonis the second time around and it was just a good but much less salty. Oh, and I used cottage instead of ricotta simply because we love cottage cheese in our lasagna.
Preheat oven to 350°F.
In a large, heavy skillet, lightly brown ground beef, sausage, onion and garlic in the oil. Be sure to keep the meat chunky, not finely separated, while cooking. Drain the meat. Add pepperoni, tomatoes, tomato paste, water, salt, pepper and oregano. Simmer, uncovered, for 30 minutes.
Cook and drain lasagna noodles according to package directions.
In a 13 x 9-inch pan, spread 1 cup of the prepared sauce. Alternate layers of noodles, sauce, ricotta, mozzarella and parmesan cheeses, ending with sauce, mozzarella and parmesan.
Bake for 40 minutes or until lightly browned and bubbling.
Let stand for 15 minutes before serving.