katew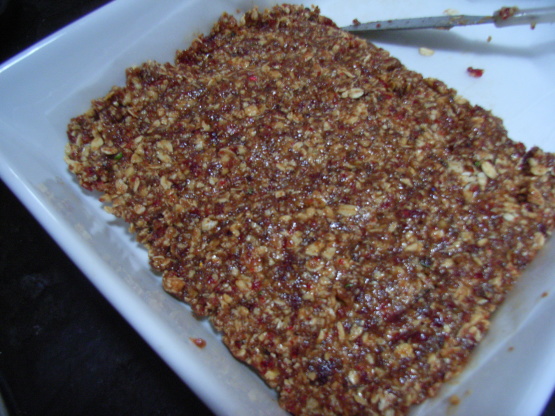 This treat sounds so yummy! Found this recipe in my BH & G magazine, Diabetes, Eat What You Love. Serving size 2 balls - 153 cal, 8 grams fat, and 17 grams carbs.

Top Review by katew
I should have doubled this recipe !! That is how yummy it is. My dried fruit was a combo of cranberries and sultanas. I also made this as a slice in a tray as I did not have time to roll the balls. This is a very addictive snack - we could NOT stop eating it, even from the bowl !!
In a small saucepan combine honey and the water; cook and stir over low heat until the honey liquefies. Remove from heat. Add peanut butter and vanilla, whisking until peanut butter is melted and mixture is smooth.
To toast oats, place them in a dry medium skillet; cook over medium-high heat until lightly golden and fragrant, stirring frequently to prevent scorching.
Meanwhile, in a large bowl combine the rice cereal, toasted oats, fruit bits, sunflower kernels, peanuts, coconut, and sesame seeds. Pour honey mixture over cereal mixture; stir to coat. Cover and chill for 1-2 hours or just until firm.
Using your damp hands, shape mixture into 30 balls, each about 1 1/4 inches in diameter. Chill balls until ready to serve. Store in a tightly covered container in refrigerator for up to 1 week.