ImPat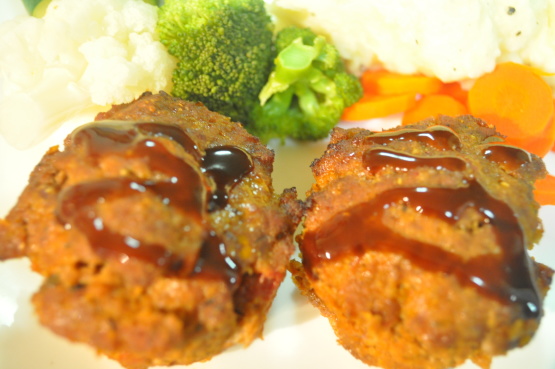 When my daughter was little she had several allergies and I had to change the way I made a lot of our favorites. Even though she has outgrown all of them but milk, I still make meatloaf the exact same way that I did then. This version is dairy and egg free and if you use gluten free oats, it becomes gluten free as well. We always serve this with BBQ Sauce.

Very good... I did it on the fly with a smaller amount of tomatoes and no anchovies sauce or hot pepper. I had over a lb of meat... 1 lb of beef and some sausage. I put a bit of Parmesan cheese on top and then some ketchup. I forgot to put the cheese in the meat. Great idea on the mini loaf pans I had never thought of it and didn't have the time to cook a large pan. Also I only used 4 mini loaf pans.
Preheat oven to 350 degrees.
Combine all ingredients in a medium size bowl.
Divide mixture into 6 mini-meatloaves.
Place in a large baking dish.
Bake 25 minutes.