Too Tired, & Broke, Yellow Rice and Chicken
PaulaG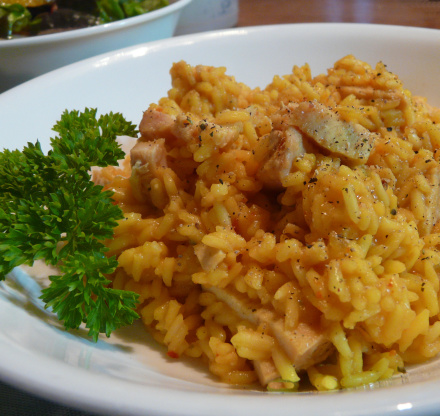 This is another recipe shared with me by my southern gentleman friend, he said his mama always used to make this for him, it is his ultimate comfort food. It's easy to keep the (2) ingredients on hand, for those nights when you just want to throw something together that everyone will eat and enjoy. It's particularly nice when you're too broke to do much, and kids love it! The "yellow" comes from the saffron in the rice. If you look in the rice section, you will find there are a few different brands of yellow, or saffron rice, it's usually in a "tube" shaped package rather than a box, & it is simply called "Yellow Rice" on the package. If you have more than 2-3 people, you may want to double it. Instead of canned chicken you can also use a cup or so of shredded or diced leftover chicken. The container sizes are approximate as I didn't have any on hand & I was going from memory, of course you could vary it by adding vegetables, cheese, whatever, but this is the easiest preparation. Apparently this "recipe" is just too easy for some; I hesitated to even put it on here because it is so basic, but sometimes it's nice to have an easy recipe that might otherwise allude us just because of it's simplicity. After all, if someone would not have shared it with me, I wouldn't have thought of it. I was accused of not putting enough information on this recipe, but I'm not really sure what other information they need, that I could include to make this ANY easier. However, I did go ahead & elaborate on the already Very simple instructions below as best as I could. I hope it's ease does not discourage other people from trying this, it really is This simple, which is why there is not more information provided.
1

(10 ounce) can chicken

1

(8 ounce) package yellow rice (8 oz. is a guess, I've only seen 1 size)
Follow package directions on rice, using liquid from chicken can (mixed with water) to comprise overall liquid measurement required for rice preparation.
Add chicken to water first, (if canned, break it apart in water) then continue to cook according to directions on rice package, on your stove top.
Serve, relax & enjoy.