teresas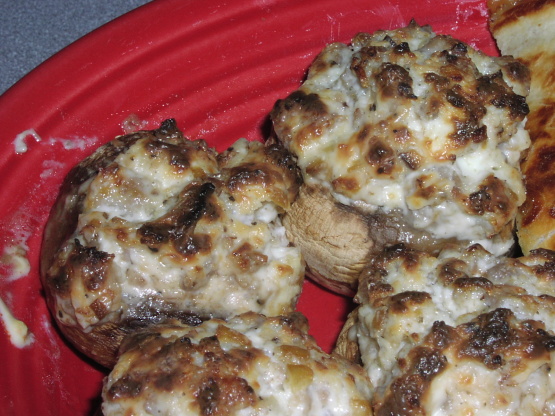 I am not a mushroom fan, but these are easy to make before a party.

These are so yummy. I used a breakfast sausage that I had and just added in some sage...nice flavor. I used some huge mushrooms so only used some of the stems...this made the perfect amount to fill the shrooms...boy are these filling. I could only eat two. I cut the recipe in half and got 8 huge mushrooms...I served them on one of our appetizer nights. Thanks for posting. Made for Fall PAC 2011 :)
Fry sausage and drain grease.
Break the stems out of the mushrooms and finely dice up the stems.
Place the diced stems in a bowl and add the sausage and the cream cheese. Mix well with a spoon.
Line the mushroom caps, upside down, on a baking pan. Put a scoop of the filling into each cap.
Squeeze some butter over each mushroom.
Cover the baking pan with aluminum foil and bake for 20 minutes at 350 degrees.
Then remove the foil and let bake an additional 10 minutes. If they start looking too dry, add a little bit of water to the bottom of the baking pan.