Noodles in Tomato juice, salted and peppered to taste; can top with parmesan cheese. My kids love it!
Directions
In a cooker bring water to a rolling boil, put in 1 tb of butter. Put in noodles or pasta, cook til done and then strain.
After straining, pour in the tomato juice,.
Turn the temperature down to med., put in rest of butter, cook for 1 to 2 minutes, then salt and pepper to taste.
On the dish you can place parmesan cheese if you like.
Enjoy!
Most Helpful
Great recipe! I'm feeling under the weather and did not feel like eating much; but this was perfect. I did not boil the noodles in water first and just boiled them in the tomato juice. It was great! Thank you for posting.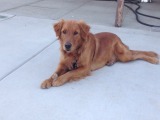 Had this often growing up as a child in Kansas. One of my all time favorite food memories. Plain old elbow macaroni and tomato juice but another favorite now is to use different shaped pastas and V-8. My two granddaughters love this too! Some grated Parmesan or other cheese is an added bonus.

I didn't have very high expectations for this one. Tomato juice and noodles? How good could it be? But, I had the ingredients on hand and didn't feel like going out in the cold to get anything else at the store. I had 2 cups of tomato juice so I measured out 1 cup of dreamfield elbow macaroni. I didn't measure the butter. I probably used 2 teaspoons, one when cooking the pasta and the other when I added the pasta to the tomato juice. It was more than enough. Probably 2 good sized servings. Topped it with salt, fresh ground pepper and shaved parm. Perfect comfort food for a cold day. Thanks!