ImPat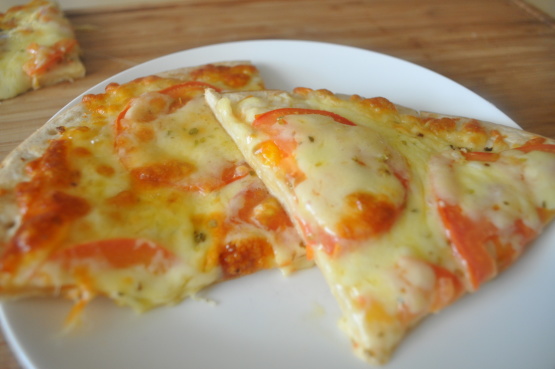 This recipe from Simple and Delicious makes a tasty appetizer, lunch or quick-and-easy main dish that you can serve with a fresh salad or pasta.

Top Review by ImPat
I used a prepared pizza base which is already par cooked so skipped step 3, used a nice big fresh vine ripened tomato and the cheeses were just perfect with that touch of the dried oregano. Thank you for a simply tasty pizza that the DM and I enjoyed for lunch, made for Everyday A Holiday.
Unroll pizza dough onto a greased 12-inch pizza pan; flatten dough and build up the edges slightly.
Spread garlic over crust.
Bake at 375 degrees for 7 minutes.
Sprinkle half of the cheeses and oregano over crust.
Arrange tomatoes on top.
Sprinkle with remaining cheeses and oregano.
Bake for 15-17 minutes or until crust is golden brown and the cheese is melted.